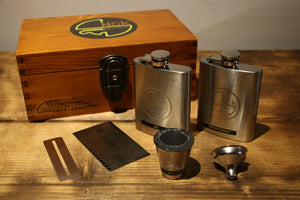 Precision Guitars Calibration.
The citrus cleaner is a water-rinsable solution that is useful for cleaning plated metal, glass, wood, and painted surfaces. Great for removing wax buildup, oil residue (from sweaty hands), and lubricating grease and oil.
 NOT for use on varnish or shellac finishes.
The oil is a high quality, boiled linseed oil, formulated for effective penetration on raw, unfinished wood surfaces. We prefer to apply it by hand, rubbing the oil into the wood, until you can feel a bit of heat from the friction. Linseed oil cures by oxidation, not evaporation, so be patient. Wipe up the excess with DISPOSABLE kitchen towel (paper towel)  and do not leave oil-soaked paper towel in your garbage bin. 
The metal polish is a super fine blend of polish and protective coating, so that once you've worked those frets into a mirror finish, your hard work will last. NOT suitable for gold or silver plating. 
Our high-grade, split microfiber cloth are cut into easy-to-use squares, suitable for use with our metal polish.
The yellow cloth is a 220 gsm, Korean made cloth, suitable for cleaning, when used with our citrus cleaner, or for polishing, when used with our museum-quality metal polish. 
The flexible, stainless steel fret guard has been manufactured in the USA, to a very high standard, with burr-free edges to prevent scratches to your guitar's fingerboard. At only 0.01 inches thin, the guard is flexible and easy to use.